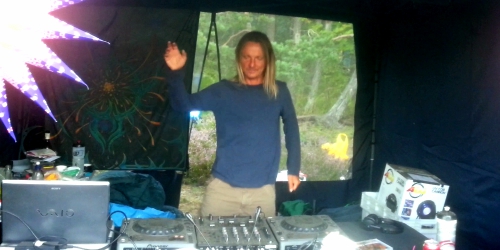 DJ Andrew Tripiti is living in Helsinki, Finland.

The first impression from electronic music  Andrew experienced when he was seven years old, when he heard for the first time the tracks of Jean Michele Jarre, it was the year 1977.  From this expirience, he got a strong influence and got a deep imprint of electronic music. At the age of fourteen, he starts to prepare sets and play synthpop at the school club.

The first contact with Goa trance happened in 1996, It was a very impressive experience.
In 1997 he starts to create paintings, organize parties, and play as a DJ.

He played in Finland, Russia, Estonia, Krymea on stage with legendary projects as Arrival, Radiotrance, UX and more. He is known as "soul uplifter'  because of the hypnotic, uplifting and spiritual atmosphere, that he delivers in his DJ sets.

He also plays different styles of electronic music, like chill out,  deep, tech, progressive house, trance, uplifting trance,  full on, psytrance, psy progressive. Second name Tripiti appeared in the year 2005 when he focused to play chillout music,  he created own page on Mixupload, (now known as edeejay.) for sharing own ambient, chillout mixes.,  He played chill out on festivals and parties in Estonia and Finland.
At the present moment he is again impressed with Goa trance music, he played in Finland on Goa trance party  Aikahatttu, creates the new mixes and he is ready to make people levitate on the dancefloor.